Posted on | januari 22, 2017 | No Comments
I recorded my vlog during the first time I was ice skating in the open. This week I worked on my thesis by reading a couple of articles for inspiration and thinking about the definition of my contribution to the literature of the development of social networks.
– I came to the the conclusion that the combination of studying and starting a business isn't ideal as long as the student doesn't choose for the development of his business. Weak ties won't commit themselves to student entrepreneurs who haven't put their company on the first place.
– Student entrepreneurs who sticked to their launching costumer and couldn't find another customer were bound to fail and in some cases became employees of their first client because of their skills.
– Students that were able to build a diverse clientbase convinced weak ties to commit themselves to their startup and gained legitimacy by doing so. Winning awards and taking care of free publicity helped them further.
– An important difference compared to non student entrepreneurs is the goodwill factor. The student entrepreneurs that were able to consolidate contacts won over by goodwill in the first instance were able to survive on the long term. Read more
Posted on | januari 13, 2017 | No Comments
This week on monday I received feedback on my second article from my promotors and we made appointments about how I should work on my third and fourth article.
I read an article about the Gioia method of qualitative research and I also read a very interesting article about incubators with a very clear methodology and presentation. I also interviewed an entrepreneur who started his company 8 years ago during the minor: Maurits Meester.
Posted on | januari 1, 2017 | No Comments
In 2007 Noelle was one of our students at the minor entrepreneurship. She was doing her bachelor pedagogy and was interested in starting her own child daycare center. In 2007 she wrote her business plan as her thesis and after graduating she started searching for the right location.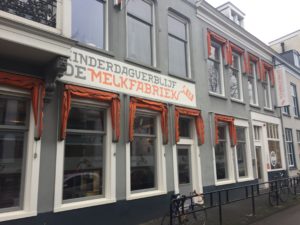 In 2009 she found the right spot in Utrecht and was able to finance the start of her company kdv de melkfabriek  In 2013 she started her second child daycare center and now in 2016 her third center was launched. In this interview she tells about her ambition:

Posted on | december 26, 2016 | No Comments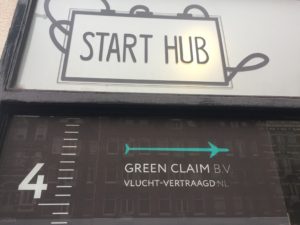 In September 2009 Tom van Bokhoven started his company greenclaim with Mario Wester and Bart de Jonge, within the minor program entrepreneurship of the university of applied Sciences in Amsterdam(HvA). Now his company has grown into six European countries and more than fifty employees. We kept contact over the last six years and I interviewed Tom several times about the way he developed his social network over time. My third article will be about the way entrepreneurs make use of the social network of their employees, so I went to Tom to ask him all about this topic and also interviewed him for my weekly vlog:

Greenclaim's office: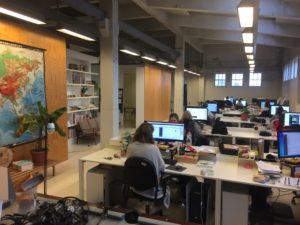 Posted on | december 18, 2016 | No Comments
This week I handed over my second article for comments and discussed what I will do concerning my third article.
I also Interviewd Nino Pataraia:


Posted on | december 11, 2016 | No Comments
This week I managed to finish my second article. I think it is ready to be published. I offered it to my promoter for a last check and in January I will deliver it to a journal for publishing. I also am preparing myself for writing the next article and planned some interviews for the last week for x-mas. This week I will make a plan for 2017 with the aim to have my thesis ready at the end of 2017.

Posted on | december 4, 2016 | No Comments
This week I worked every day for 1-2 hours on my second article.


I had to make the step from interview to overview and had to translate all my findings to the theory about social networks. One of the remarks until now of my reviewer was "show don't tell". This is what I did by putting more quotes of the people I interviewed in my article.

Posted on | december 4, 2016 | No Comments
Last weak I started with my first week to write a vlog about working on my thesis.
In september 2009 I started with my datacollection and at this moment I am working on my second article about how student entrepreneurs build their social network.
I aim to have my thesis finished on 31-12-2017 and therefore I planned to work every week, every day on my thesis.
How I succeed in doing so and what will be the results I am going to share with you by making a weekly vlog:
Posted on | maart 20, 2016 | No Comments
Op 13 februari twitterde Fieke van der Lecq over de installatie van een kafkaknop op het intranet van de VU. Hiermee kunnen studenten en medewerkers die geconfronteerd worden met overbodige bureaucratie hun grieven melden. In april 2015 meldde bestuurder Jaap Winter dat de knop er zou komen, maar nu is het dan zover (het heeft tien maanden geduurd voordat de knop er was – over bureaucratie gesproken!). Meteen mengden de usual suspects zich op Twitter om dit toe te juichen en suggereerde Paul van de Water aan Paul Helbing en Huib de Jong om op de HvA ook zo'n knop te laten installeren. Hier werd voorzichtig positief op gereageerd (ik schat in: installatie in april 2017).
Als initiator van ondernemende programma's en experimenten krijg ik regelmatig met de bureaucratie van de organisatie te maken. In mijn vorig leven op het ROC van Flevoland bevocht ik deze bureaucratie met verve en ging als een Don Quichot tekeer tegen de windmolens om mij heen, met als gevolg dat ik in 2000 lichtelijk overspannen het onderwijs verliet om mijn heil elders te zoeken. Datzelfde jaar kwam ik toch tot de conclusie dat ik vooral blij word van het opleiden van jonge mensen en zo kon het dat ik in 2001 in dienst trad bij de HvA.
Posted on | december 24, 2015 | No Comments
2015 was voor mij een beetje een transitiejaar. Ik verliet de minor ondernemerschap HvA en werd programmamanager ondernemerschap bij de HvA. Heb nog steeds mijn draai in mijn nieuwe functie niet gevonden, maar dat komt in 2016 vast wel goed.
Veel gereisd in 2015, Kiev, Berlijn, Hannover, Hamburg, Chernivtsi, Riga, Parijs, Thassos. In Kiev, Chernivtsi en Hamburg mooie karaoke sessies meegemaakt en in het Mauerpark in Berlijn samen met Anita "I've got you babe" gezongen.

Mooie pinkpop samen met Annemarie en Lowlands samen met Jonathan en Sander.
Qua rennen de lijn van de afgelopen jaren vastgehouden en nog steeds optimale conditie! Afgelopen week ook weer mooie 3 daagse yoga sessie afgewerkt bij Gert(www.criticalalignment.nl) en hele jaar wekelijks bij Jacoline een yoga work-out.
In Maart prachtige wintersportbeleving met Michael, Dymphna en Jan! Wat is het toch heerlijk om op de lange latten in de sneeuw te staan!
Al me al was 2015 een mooi jaar met veel positieve ervaringen!
Concerten in 2015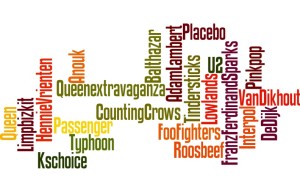 Read more
keep looking »