Posted on | februari 12, 2017 | No Comments
This week I delivered a new version of my second article I was quite satisfied about the story line and the proposed contribution to the literature. I also started with making my design for the next article. I want to research the way employees contribute to their company by using their social network. I want to do a qualitative research in three former student companies. One company in het B2B sector, One company in the B2C sector and one company in the B2B-B2C sector. Next weeks I will tell you more about the design of the research and the research questions.
Posted on | februari 5, 2017 | No Comments
This week I ended my class Entrepreneurship Philosophy and the arts, 18 honours students of HvA attended this class and gave it an overall grade of 7,6. Evaluation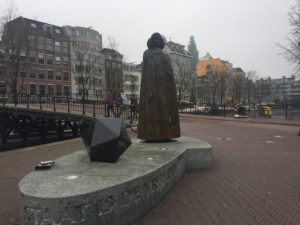 One of the topics of this class was the philosophy of Spinoza and especially the relationship between acting for your own good and acting for the common intrest. We applied these principals to a company that is acting in the common intrest of coffee farmers in Ethiopia and introduced the fair chain principle. So for the sake of my vlog I thaught it would be interesting to go to the statue of Spinoza in Amsterdam and talk about the developments of my thesis last week. Read more
Posted on | januari 27, 2017 | No Comments

This week I read an interesting article about incubators which helped me a lot regarding the way I have to write my second article. The article was about the way incubators should cope with their clients and how they should manage the expactations of participants. While I am a frequent visitor of the ACE-Venturelab location startupvillage I thought it would be nice to share my thoughts with you from this beautiful location. Have fun!
Posted on | januari 22, 2017 | No Comments
I recorded my vlog during the first time I was ice skating in the open. This week I worked on my thesis by reading a couple of articles for inspiration and thinking about the definition of my contribution to the literature of the development of social networks.
– I came to the conclusion that the combination of studying and starting a business isn't ideal as long as the student doesn't choose for the development of his business. Weak ties won't commit themselves to student entrepreneurs who haven't put their company on the first place.
– Student entrepreneurs who sticked to their launching costumer and couldn't find another customer were bound to fail and in some cases became employees of their first client because of their skills.
– Students that were able to build a diverse clientbase convinced weak ties to commit themselves to their startup and gained legitimacy by doing so. Winning awards and taking care of free publicity helped them further.
– An important difference compared to non student entrepreneurs is the goodwill factor. The student entrepreneurs that were able to consolidate contacts won over by goodwill in the first instance were able to survive on the long term. Read more
Posted on | januari 13, 2017 | No Comments
This week on monday I received feedback on my second article from my promotors and we made appointments about how I should work on my third and fourth article.
I read an article about the Gioia method of qualitative research and I also read a very interesting article about incubators with a very clear methodology and presentation. I also interviewed an entrepreneur who started his company 8 years ago during the minor: Maurits Meester.
Posted on | januari 1, 2017 | No Comments
In 2007 Noelle was one of our students at the minor entrepreneurship. She was doing her bachelor pedagogy and was interested in starting her own child daycare center. In 2007 she wrote her business plan as her thesis and after graduating she started searching for the right location.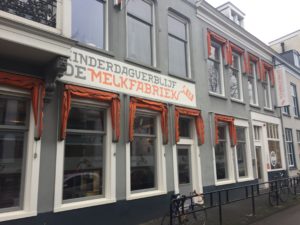 In 2009 she found the right spot in Utrecht and was able to finance the start of her company kdv de melkfabriek  In 2013 she started her second child daycare center and now in 2016 her third center was launched. In this interview she tells about her ambition:

Posted on | december 26, 2016 | No Comments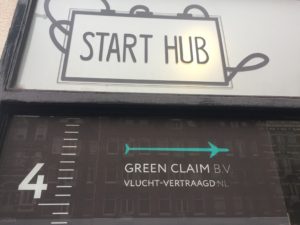 In September 2009 Tom van Bokhoven started his company greenclaim with Mario Wester and Bart de Jonge, within the minor program entrepreneurship of the university of applied Sciences in Amsterdam(HvA). Now his company has grown into six European countries and more than fifty employees. We kept contact over the last six years and I interviewed Tom several times about the way he developed his social network over time. My third article will be about the way entrepreneurs make use of the social network of their employees, so I went to Tom to ask him all about this topic and also interviewed him for my weekly vlog:

Greenclaim's office: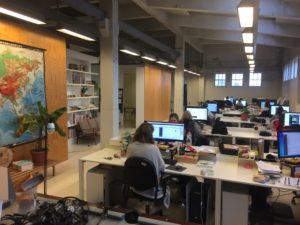 Posted on | december 18, 2016 | No Comments
This week I handed over my second article for comments and discussed what I will do concerning my third article.
I also Interviewd Nino Pataraia:


Posted on | december 11, 2016 | No Comments
This week I managed to finish my second article. I think it is ready to be published. I offered it to my promoter for a last check and in January I will deliver it to a journal for publishing. I also am preparing myself for writing the next article and planned some interviews for the last week for x-mas. This week I will make a plan for 2017 with the aim to have my thesis ready at the end of 2017.

Posted on | december 4, 2016 | No Comments
This week I worked every day for 1-2 hours on my second article.


I had to make the step from interview to overview and had to translate all my findings to the theory about social networks. One of the remarks until now of my reviewer was "show don't tell". This is what I did by putting more quotes of the people I interviewed in my article.

keep looking »