Posted on | januari 22, 2018 | No Comments

Today I handed over my first chapter of my dissertation and in the next weeks I will be working on the first draft of my dissertation, so that I can deliver this to the reading committee. For writing this introduction chapter I benchmarked with the dissertations of Sylvia Hubner(2017) "How entrepreneurs develop and influence their employees"and Wouter Stam (2008) "Does networking work?" Especially the dissertation of Wouter was a great support.
Posted on | december 20, 2017 | No Comments
Last week I got feedback on my third article for my dissertation and my promotor gave me some tips to rewrite my introduction(See blog of 10 december). I also read the article of Adam grant about writing an introduction: setting the hook Grant 2011 Introduction guidelines article
This week I wrote a new introduction using this feedback. If you want to you can read it and perhaps share some comments with me by emailing me at m.haring@hva.nl
Posted on | december 10, 2017 | No Comments

This week I discussed my third article with my promotor Tom Elfring and one of my supporters Mirjam van Praag. There is stil a lot of work to be down to make this article ready for my dissertation, but they were both positive about the topic and the content (How will the social capital of employees contribute to the social network of a company?). Tom had some comments on my introduction and he sent me some guidelines to help me to structure the introduction of my article, so if you're working on an article, feel free to use his advice: Introduction guidelines article
Last month I also worked on the introduction chapter of my dissertation and I am aiming to work on it more during the x-mas holidays. As everything goes as planned, my dissertation must be ready somewhere in 2018.
Posted on | oktober 29, 2017 | No Comments
Last week I put a lot of hours in writing my third article for my dissertation. This article is about the way the employees of (former) student entrepreneurs use their social capital in favor of the company. I interpreted the data I collected at three of the companies of former students of mine and I also got inspired by the dissertation of Sylvia Hubner about "How entrepreneurs develop and influence their employees" and the article of Thomas Lans, Vincent Blok and Judith Gullikers about social competence and social capital of early-stage entrepreneurs. Read more
Posted on | september 29, 2017 | No Comments

Today I started with the last interpretations of the data I gathered for the third article of my thesis. At the end of the weekend I want to deliver a first draft to my promotor and within the next week I will discuss this draft with him and make a plan to deliver the thesis by the end of this year.
For the interpretation of the data I used the tool MaxQda that was provided by the university. A student of the university put the nine interviews I made into text files and I imported all these data into MaxQda. In this tool I was able to label the most important quotes of the employees. I used labels like: Online relatives, cooperation among members, associability to collective goals, bussines contacts, five different labels for building trust, etc…
The quotes of the employees were used to draw conclusions about the way employees of former student entrepreneurs used their network in favor of their company and how the former student entrepreneur was able to motivate his employees to do so.
Posted on | juni 16, 2017 | No Comments
I handed in the final version of my second article. The first version is of september 2014, so it has seen a lot of revisions over the years. I really did my best to go into the needed details and I hope my promotor(s) will like this version, so I can start with searching a scientific magazin to get it published.
This is the abstract:
"This article explores the development of strong and weak ties in the social network of nascent student entrepreneurs and the role the five mechanisms of social networking play in the process of opportunity recognition and resource mobilization, through a longitudinal case study among seventeen student start-ups in the period 2009-2013.
Recent studies have focused on which networks would help entrepreneurs to become successful and what would be the best mix of strong ties and weak ties to build an organization upon. Only a few studies focused on how networks develop over time and the role the mechanisms of social networking play in this development.
Posted on | mei 23, 2017 | No Comments

At thenextweb conference I interviewed several former students of the Amsterdam University of applied sciences about their career and spoke educators and Entrepreneurs about dream jobs, education and social networks.
I spoke Mark Randall(Chief Strategist of Adobe) about creating a dream job and the way he hires his staff. " I look at peoples work, when hiring. Their CV doesn't interest me at all. Great work and referrals make my clock tick!" So how will our students fit in a company like Adobe and how could they create their dream job? "Well at first they have to realize a portfolio of their work and search for a great manager or entrepreneur they would like to work for, cause your education starts after college and better work for an inspiring manager at a small firm than an asshole at a big corporate"
Posted on | mei 13, 2017 | No Comments

This week I went to the 3E2017 Conference in Cork to share some insights about entrepreneurial education with my colleagues from all over the world. I hosted two workshop with my lector Ingrid Wakkee about "Graduating in your own company" and "Intrinsik Motivation" We had a good discussion with the participants and took some valuable lessons with us to Amsterdam. One of the insights was about the alumni association of entrepreneurs that still is not in place in Amsterdam.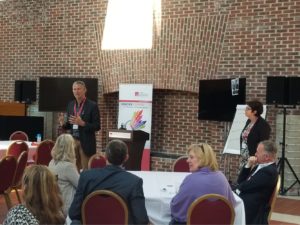 My coleague from Munich gave me the push to make a start and not to wait for another five years. So I hope to write about this for the end of the year. Concerning to my thesis I learned again to remain critical and be open to suggestions of others. A colleague from Norway was so kind to state some interesting remarks sitting at the airport with a Beer.
Posted on | mei 6, 2017 | No Comments
This wednesday I was visiting Greenclaim to interview a couple of their employees about the way they use their social network for the company. I did the same at the facility of Mr Prezident on Thursday. So now I've got some new data to analyse for my third article.

Posted on | april 19, 2017 | No Comments
Last week I was visiting the Simon and Garfunkel story in the theatre and heard the song "Homeward bound" again. It was one of the first songs I learned to play on my guitar, so I thaught I'd play a part of it for my vlog. The phrase "I'm heading for my destination" is one I want to label to the phase I am in right now. My second article almost finished and starting with the data collection for my third article gives me the impression I'm heading somewhere. Still "I am a poet and a one man band" so I have to make a couple of miles…
keep looking »