Posted on | april 17, 2017 | No Comments
Marijke startte in 2010 met Talking French Haarlem. Op 23 mei 2013 zette ze dit op haar facebookpagina: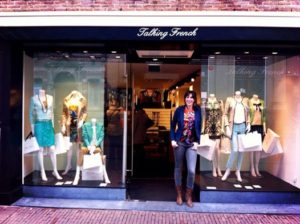 "Na 3 jaar keihard gevochten te hebben tegen de economie is vandaag duidelijk geworden dat ik de strijd verloren heb. Het einde van Talking French Haarlem.
Wat waren er mooie momenten! Stralende bruidsmoeders, hysterische shoppingnights, stijlvolle modeshows, ludieke acties, emotionele make-overs & serieuze Talking French-verslavingen 

😉.
Dit weekend zal ons laatste weekend open zijn. Jouw laatste kans om nog zo'n mooi TF-item te bemachtigen of om mij gewoon even een knuffel te komen geven in de Zijlstraat. Jammer he?! "
Aanstaande woensdag om 16:30 uur is ze te gast op de HvA om haar verhaal te doen en haar ervaringen te delen. Ze is hier niet alleen, maar samen met een aantal andere gasten die door onze lector ondernemerschap Ingrid Wakkee zijn uitgenodigd om te vertellen waarom falen en ondernemen onlosmakelijk aan elkaar verbonden zijn. Wil je meer weten over dit onderwerp, kom woensdag om 16:30 uur langs in het Wibauthuis bij de Research Meetup!
Posted on | april 11, 2017 | No Comments
Last week I was busy reading new articles and making my interview list for the employees I'm going to meet of Greenclaim and Mrprezident. I also looked into tools for transcripting these interviews and started to work on the transcription of an earlier interview using MaxQDA12. On the 25th of April I will have my next meeting with my promotors to make the interview list definitive so I can start interviewing.
Posted on | april 2, 2017 | No Comments

Last week I did a lot of reading for my third article and a I adjusted my research framework and my research questions. I also made a new version of my second article and sent it to my promotors. The will adjust it now in a way that it can be submitted to a journal. I also talked to the entrepreneurs that are subject of my study and they gave me permission to interview there employees for my third article.
So my research question will be this: "How do student entrepreneurs build trust and associability in order to make their employees use their social network to find resources for the company?"
This is the conceptual model I will use to build my third article around: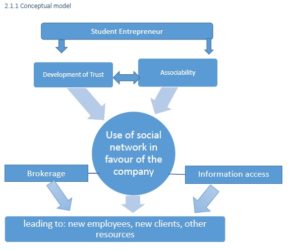 Posted on | maart 24, 2017 | No Comments

Interview with Michael from Georgia(Tblisi)

Interview with Tatiana from Moldova(Chisinau)

Interview sith Julia from Ukraine(Karkiv)
Last week I was busy with organizing and hosting an event for the EANET project We are working together with universities from Ukraine, Moldova and Georgia, to create Alumni entrepreneurs networks in these countries.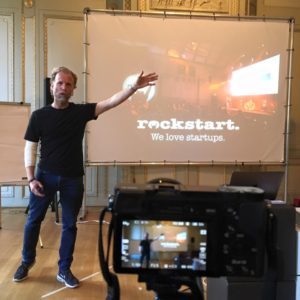 I interviewed three participants of each of the countries involved to hear what they liked the most about their trip to Amsterdam and the workshops we organized. The most populair workshop was hosted by Oscar Kneppers of Rockstart. The representants of the universities, the ministries and business liked the way he painted the startup scene in Amsterdam and the learnings he presented. The quote "Stop talking, start acting" was one I hope will inspire our participants to take new initiatives in their country.
It was a great experience to have all these representants (45) of these countries here and we think we helped them to think about the next steps they have to take to make their country more entrepreneurial.
Posted on | maart 19, 2017 | No Comments
This week I worked mostly on literature research for my third article and I had a conversation with my promotors about the work I delivered. I handed in the fifth version of my second article but according to my promotors still didn't hit the nail on the head. I must be more specific about the contribution I'm making to the literature of social networks. So within two weeks I will deliver a new version in which I will put in some extra data to make a stronger case. My promotors will help me with the last step and contribute to the final version so that it can be published in a scientific journal.
Also my groundwork for my third article needs some work and I will look into the literature to make sure that the conceptual model I want to use is strong enough to build my research upon.
Posted on | maart 12, 2017 | No Comments

This week I put a lot of effort in writing a new version of my second article.
I also made a new conceptual model for my third article and hope my supervisors will accept it so that I can move on.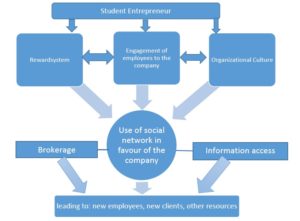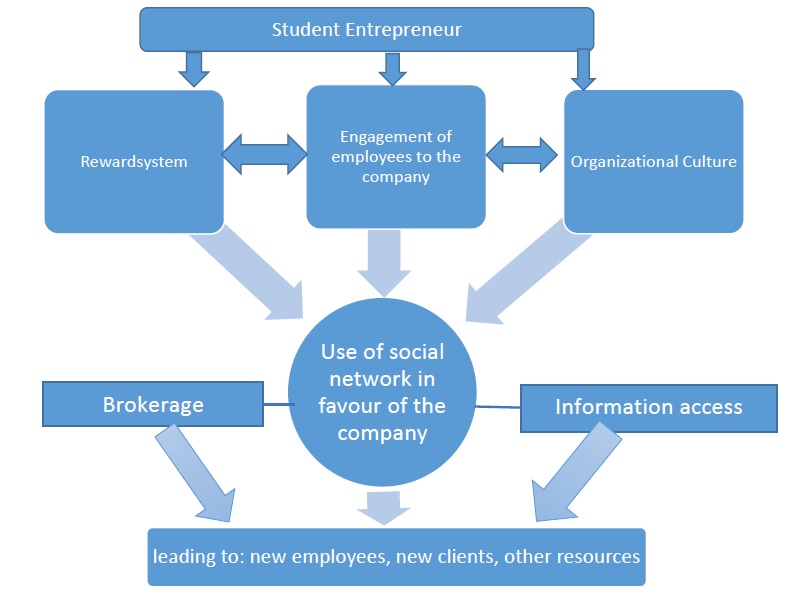 Posted on | maart 5, 2017 | 1 Comment

Last week I discussed my first research proposal about my third article with my supervisor. We came to the conclusion that it still needed some work. My focus was on the social network of the employees and not on the way student entrepreneurs make use of this network. So I worked on a new proposal and also did some new deskresearch using Vosviewer With this tool you are able to find the most quoted article on the topics your doing research in.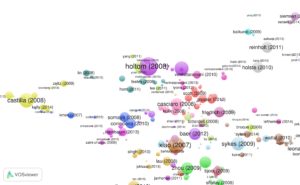 Posted on | februari 24, 2017 | No Comments
On 23th of February Pieter Bosschaart told a couple of students of the university of applied sciences how he started in 2011 his company during his bachelor study with Paul van Hattem.
Nowadays www.mrprezident.com is a global operating company working for mayor brands and situated in Amsterdam, New York and SIngapore.
Posted on | februari 23, 2017 | No Comments
This week I finished the design of my third article. It was fun to make it and I hope it will help to make a good start with the path to the next milestone of my thesis. I want to write about the way employees of companies started by student entrepreneurs use their social network in favor of the company they are working for.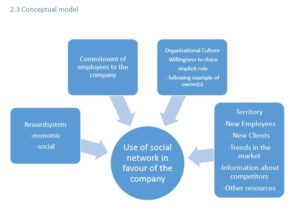 My conceptual model deals with mechanisms of rewards and reciprocity, but also with the different kind of topics that are related to this topic e.g. introducing new employees, finding possible clients, information about competitors,…
I hope that three of my former students will give me access to their company to interview their employees.
I will continue to inform you about my progress!
Posted on | februari 12, 2017 | No Comments
This week I delivered a new version of my second article I was quite satisfied about the story line and the proposed contribution to the literature. I also started with making my design for the next article. I want to research the way employees contribute to their company by using their social network. I want to do a qualitative research in three former student companies. One company in het B2B sector, One company in the B2C sector and one company in the B2B-B2C sector. Next weeks I will tell you more about the design of the research and the research questions.
« go back
—
keep looking »