Posted on | juni 28, 2015 | No Comments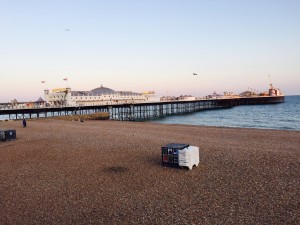 Afgelopen week was het Brighton het strijdtoneel van de wetenschappers op het gebied van sociale netwerken. Meer dan 800 academici vanuit de hele wereld togen naar de badplaats aan het kanaal.
Ik was ook aanwezig bij dit Walhalla van kennis en presenteerde met trots mijn tweede artikel in het kader van mijn proefschrift: "the development of the social network of student-entrepreneurs" Centraal in mijn presentatie stond de matrix die ik vervaardigd heb naar aanleiding van de interviews die ik gedurende drie jaar gedaan heb onder de studentenbedrijven die zich doorzetten nadat ze de minor ondernemerschap bij de HvA voltooid hadden. De bedrijven die in de eerste drie jaar de meeste tijd in het uitbouwen van hun sociale netwerk(family, friends and fools) investeerden, bleken ook uiteindelijk het meest succesvol van de vijftien doorstarters.
Thomas W. Valente was de keynote speaker tijdens deze conferentie. Hij wist de 800 aanwezige academici te boeien met zijn onderhoudende verhaal over zijn carrière als onderzoeker. Een van de onderwerpen die hij onderzocht had betrof "the diffussion of innovations" oftewel de tijd die nodig is voor dat een bepaalde innovatie geaccepteerd wordt door het publiek en de rol die het sociale netwerk daarbij speelt. Hij refereerde daarbij ook naar het boek van Malcolm Gladwell over dit onderwerp "The tipping point". Wat mij betreft een absolute aanrader!
Al met al was het weer een mooie week en heb ik weer een mooi karaoke café gevonden "The prince of Wales".
Mijn artikel in wording is hier te downloaden. Tips en kritische op- en aanmerkingen zijn altijd welkom!
Comments